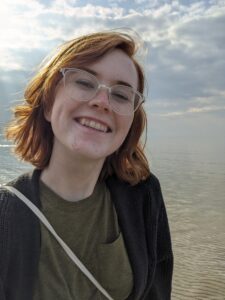 Anna Tjeveit'23, a GRST and ENGL double major, is currently studying at the University of Hamburg through the Smith in Hamburg study abroad program. After finishing her classes in July, she will use the generous funding from the German Studies Department's Reihlen Fund to do research for her thesis, which is a novella focusing on nature conservation efforts in the GDR. Her novella focuses on a nature- conservation volunteer who struggles to reconcile her work with the government's increasingly destructive environmental practices. Anna is interested in the way in which we as individuals process environmental destruction and in how concern for nature may or may not translate to political engagement. Through this project, she hopes to study East German perspectives towards nature and environmentalism while illuminating parallels between the GDR's environmental movement and current international struggles against climate change. Anna will be visiting several cities in the former East-Germany.
Yasemin Schmitt '24, a GRST and Neuroscience double major, will be volunteering this summer at the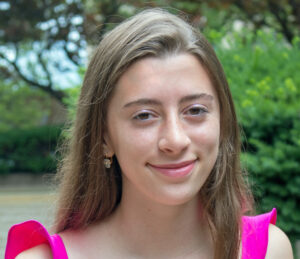 New York Blood Center, helping blood donors recover and watching for adverse reactions. In addition, she will be volunteering at Staten Island University Hospital and an Assisted Living Memory Care facility where she will help run activities and visit patients. Starting in July, Yasemin will work as a teaching assistant for a bioinformatics course for high schoolers at Mt. Sinai Hospital in New York City. In her spare time, she plans to practice her German and read many German books. A good for site for practicing German is Deutsch für Dich.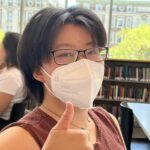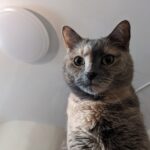 Linus Mao '23, a GRST and COL major, is spending this summer in Germany, where they is doing research for their senior thesis. Linus has already visited the Walter Benjamin Archive in Berlin, which—as they wrote to Prof. Bork—"was already an unforgettable experience." Linus will spend three weeks in the Deutsche Literaturarchiv located in Marbach, doing research on the German/English author, W. G. (Max) Sebald. Then Linus will visit Frankfurt to study at the DFF Archive and Study Center, which holds all the archival material of German film director Rainer Werner Fassbinder. This research has been funded by the German Studies Department's Reihlen Fund. Linus will return to the US in mid-July to do further study and start applying to graduate schools.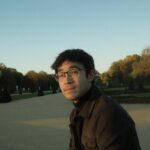 Jake Neuffer '23, a GRST and CSS double major, received the Reihlen and Davenport grants to doresearch in Berlin this summer. He will be studying the rise of Germany's military budget in light of the Ukraine conflict and whether the war represents a reconfiguration of the relationship among the German people to nationalism, democracy, and the government. The Berlin Social Science Center (WZB) has offered Jake the position of Guest Scientist to aid in his research.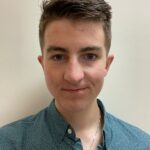 John Sutherby '23, a GRST and ECON double major, will be moving to New YorkCity this summer and attend the Deutsche Bank Internship Program in Investment Banking. He is excited about this opportunity as well as living in the Big Apple for the summer and returning for senior year! He is hoping to explore the city and do some weekend trips to New York State and Pennsylvania to do some fishing and hiking as well!
Sofia Khu '24, a GRST and COL double major, will be interning for the literary journal The Perch. Afterwards she hopes to find work in journalism, and continue to work on her thesis novella which received High Honors.