Our colleague and friend Peter M. Frenzel, Marcus L. Taft Professor of German Studies, Emeritus, passed away on Sunday, May 20, 2018, at the age of 82.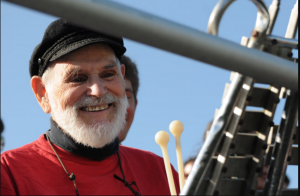 Peter arrived at Wesleyan in 1966 after receiving his B.A. from Yale, M.A. from Middlebury, and Ph.D. from the University of Michigan. He retired in 2003 after 37 years at Wesleyan. During his time here, Peter served on virtually every major committee, including Advisory and EPC, and he served in a number of administrative roles, including as an Associate Provost, Dean of Arts and Humanities, chair of German Studies, director of the Wesleyan Program in Germany, and as the Commencement Marshal. In his retirement, Peter served on the Advisory Board for the Wasch Center for Retired Faculty and was editor of the Center's newsletter. He was a carillonneur who oversaw Wesleyan's carillon bells, and he played the glockenspiel with the pep band during football games.
Peter was one of the foremost experts on the German Minnesang tradition of lyric- and song-writing, with particular expertise in the early forms of Medieval German literature and the connection between poetry and music. His scholarship on medieval music and literature and German music and culture of the 19th century contributed much to our knowledge of the Middle Ages. 
His colleague Herb Arnold said, "Peter loved music in its more modern expression, as well, often sitting down at his piano for an impromptu riff or chasing the perfect Wagner Ring around the globe, visiting what seems like every operatic venue from New York to Sydney."
Peter is survived by his wife, Laurie Neville Frenzel; grandchildren John Frenzel and Rita Frenzel; daughter Kim Frenzel and partner John Lucey; and his older brother, Robert. A memorial gathering will be held at the Wadsworth Mansion from 1:30 to 4 p.m. on Sunday, June 17, 2018. Memorial contributions can be made to the Cystic Fibrosis Foundation, P.O. Box 97372, Washington, D.C. 20090-7372, or to the Susan and William Wasch Center for Retired Faculty, c/o Jessie Steele, 51 Lawn Avenue, Middletown, CT 06457.