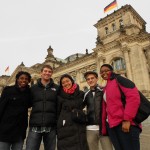 The members of German house would like to share their study/work experiences in Germany, Austria, and Switzerland and give you helpful tips about available program options and lifestyle abroad.
Elena Georgieva will talk about science programs in Germany, Austria, and Switzerland during and after graduation, as well as some work possibilities for science majors.
Nathan Shane will talk about studying music and German (and learning to cook!) while living in Leipzig, and how participating in such a different educational system gave him more perspective on his experience at Wesleyan.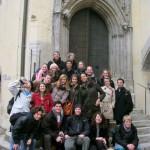 Lana will talk about  the Wesleyan-Vanderbilt-Wheaton program in Regensburg which she did, and also about how one can take music and psychology classes that were counted towards her majors. Steffi, our exchange student from Regensburg also be there to answer any questions.
Our guest, Sara Lynch, who went to Berlin as part of the Duke in Berlin program will talk about her experience.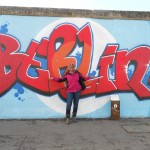 Frau Bork will also be there and answer any questions about Regensburg, the Duke in Berlin and the Columbia in Berlin programs.
The rest of the house members will be there to share our excitement with German culture and assist you with any other questions related to campus German life. Bring your questions, maybe laptops, and stomachs ready for cake!