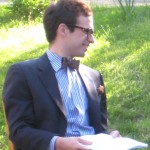 William Krieger '11: Other than German Studies, I also majored in Art History. I wrote a thesis in both departments about the contemporary German artist Martin Kippenberger (1953-1997), focusing on three of his major installation projects from the 1990s.
Next year, I will continue working on my thesis at Humboldt University in Berlin under a Fulbright grant and hope to continue my interest in German studies in a graduate program after that.
Ben LaFirst '11: I have a double major in German Studies and Sociology. My senior essay in Sociology is entitled "Monopoly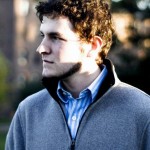 Capitalism and Network Neutrality: The Future of the Internet as a Material/Discursive Body". I studied one semester in Regensburg and am excited to go to Austria, where I will be teaching English to Austrian high school students this fall. This is part of the United States Teaching Assistantship program sponsored by the Fulbright Commission in collaboration with the Austrian-American Educational Commission.  After my year as an ESL Assistant in Linz, Austria, I hope to enroll in a Master's program to study history and eventually get a job as a history teacher.
Ryan Moses '11: I am a German Studies and History major with a concentration in European history. My particular interests in history focus on Germany. I wrote an extensive research paper on German companies and their ties to the Nazis, and  another paper that examined the evolution of the relationship between German companies and their Nazi pasts, focusing on certain key events that forced them to reevaluate how they address their troubled history.
After Wesleyan, I'm hoping to pursue a career in finance.
I would recommend to anyone considering studying a foreign language that they study abroad. Living in Germany was one of the best times I've ever had. Whether it be for a summer, a semester, or an entire year, you'll have a great time and learn more about the language and the culture than you can imagine.
Anya Olsen '11: I am a College of Letters and German Studies Major.
I wrote my thesis on the portrayal of women and gender in four selected works of German literature in the period after World War II, comparing two from West Germany and two from East Germany.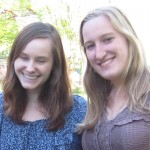 After I graduate, I will be going to Tübingen and studying there as part of the Connecticut-Baden-Württemberg Exchange Program. I will continue looking at issues of gender within German literature, as well as taking German history courses.
Catherine Steidl '11: At Wesleyan, I have majored in both German Studies and Archaeology. I wrote my thesis within the Archaeology Department on specific female votive statuary from the Athenian Acropolis and the ways in which we can use them to learn about women's roles and social experiences in Ancient Greece. My studies in German were extremely critical to my thesis, however, as a good portion of my research relied on German texts and archaeological reports!
Next year, I am taking part in the CT-BW exchange and attending the University of Tübingen to improve my German and continue my studies in Archaeology before applying to PhD programs in Classical Archaeology, for which German is essential.