German Studies major, Katherine Wolf '12, has been studying at the Freie Universität in Berlin since Fall 2010 and worked as an intern at the Galerie oqbo last spring.  Katherine sent us the following article from Berlin. She will be back at Wesleyan this fall.
Friday, May 13, 2011, 7pm
Opening Evening, 7pm at both locations. Gallery Tour led by Katherine Wolf begins in Galerie oqbo at 8pm.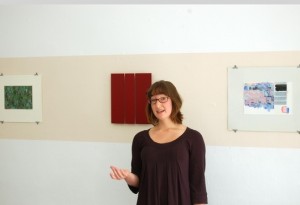 Five months and the majority of the first semester had flown by, but returning to Berlin after the holidays, I felt as if I needed an activity to deepen the substance and purpose of my abroad experience. Dozens of emails and a rewritten version of my resumé auf deutsch later and I found myself at at a table with artist and co-founder of the Galerie oqbo Michael Bause: the acquaintance of the childhood best friend of my favorite German teacher. On our first meeting we chatted about the gallery while drinking cappuccinos. I got a tour of the petite gallery, with its main room, the kitchen and meeting area (with a fridge consistently stocked of white wine, cheap champagne, and beer),  and the narrow spiral staircase that leads to a second exhibition room in the basement.
Our second meeting was in the apartment of artist and American Abstract Artists member Gilbert Hsiao to meet about the upcoming exhibit celebrating the 75th anniversary of the creation of the American Abstract Artists organization. Gilbert was, so to say, the guardian of the artworks; on the walls of his home hung nearly every piece that would soon be presented in that lonely, empty gallery on Brunnenstrasse. They varied in style, in color, technique, and medium. I was astounded, thrilled, and filled with excitement for my tasks to come.
My main assignment for the moment is to formulate gallery tours (in German!) through that will be offered at the opening event, on the state-sponsored nation-wide "Kulturtag," and during the last week of the exhibition.  It will offer insight into the development of abstract art and its public reception, from its development in the early 20th century through present day, as well as touch upon the differences between American abstract art and German abstract art. Depending on the availability of the American ambassador to Germany, I may be giving him and his council a private tour, too.
I am elated to be working with such an engaging and interesting group at oqbo. Though its small, the six co-founders are all working artists and fascinating, engaging, hilarious individuals. I have already been exposed to new discoveries about the behind-the-scenes workings of the art world, and am sure that more is sure to come.