Caroline Adams '19 (GRST/AMST) received high honors for her German Studies and American Studies senior thesis Imagining "Indianer": Karl May's Winnetou and Germans' Enduring Fantasies about Native Americans. Caroline was awarded the Blankenagel Prize and was inducted into Phi Beta Kappa in the spring. Next year, Caroline will be working towards her Masters in American Studies at Brown University and plans to continue her studies on "Indianthusiasm" in Germany. Her plans for the summer included researching the histories of German settlements in the Midwest.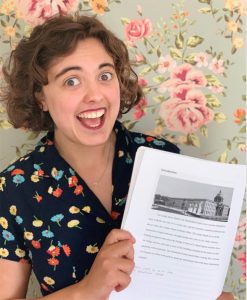 Anna Apostolidis '19 (GRST/ANTH) completed an honors thesis titled, Is Bigger Better? Postcolonial Memory and the Politics of Expansion at the Humboldt-Forum. Based on fieldwork conducted in Berlin in summer 2018, the thesis is a critique of the Humboldt-Forum, a new museum opening up in Berlin this fall. In it, she explores contemporary German politics of memory in relation to colonial history and the Berlin ethnological collections set to be displayed inside the museum, arguing that the liberal, conciliatory discourse of the museum prevents a real confrontation with its colonial past. Anna received high honors for her thesis from the Anthropology and German Studies departments. She was inducted into Phi Beta Kappa last fall. She will be applying to graduate programs in Anthropology.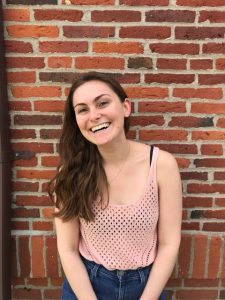 Lizzie Whitney '19 (GRST/ COL) wrote an honors thesis entitled The German Novel in the Wake of the Refugee Crisis. In it, she examines six novels recently published in Germany that concern the refugee crisis and uses these readings to test the idea of a contemporary German transnational literature.
She was inducted into Phi Beta Kappa, and received the Blankenagel Prize. She also won a DAAD-Stipendium and will be starting at the Universität Konstanz in its MA  program, Kulturelle Grundlagen Europas, in October 2019.  This program applies sociological and historical lenses to the study of literature.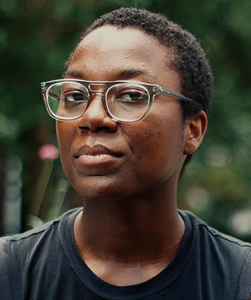 Miranda Haymon '16 (GRST/THEA) directed her adaptation of Franz Kafka's short story In the Penal Colony (orig. title, In der Strafkolonie) last September in The Tank in New York City. Critic Darryl Reilly of Theater Scene wrote, "Brilliantly realized … a symbolic exploration of race in the United States. It's a jolting blend of dance, movement, and physical theater dynamically performed by an African-American cast." He called Haymon's staging "electric," and her adaptation "pared down yet faithful." Several Wesleyan graduates helped with her production, so it is no surprise that Miranda called it a "very Wesleyan" production.
More information about Miranda, the play, and her staging: