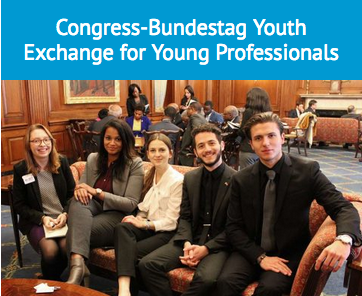 The Congress-Bundestag Youth Exchange for Young Professionals (CBYX), a fully-funded fellowship opportunity, is currently accepting applications for the 2019-2020 program year.
The Congress-Bundestag Youth Exchange for Young Professionals (CBYX) is a year-long fellowship that gives students and recent graduates the opportunity to study and work in Germany. CBYX for Young Professionals is open to students in all fields of study and at all levels of study, including graduating students.
CBYX is sponsored by the U.S. Department of State with funding provided by the U.S. Government and German Government and is administered by Cultural Vistas and the GIZ. More information and the online application can be found at www.CBYX.info.
The CBYX program annually provides up to 75 participants with:
Two months of intensive German language training

A semester of study at a German university or university of applied sciences

Internship with a German company in the participants' career field

Homestays with German host families, in shared apartments, and student dorms

Transatlantic airfare, health insurance, and monthly living expense stipends

Local in-country support throughout the program
Prior German language knowledge is not required, though it is preferred. Applicants should have clear career goals and some relevant work experience in their career fields, which may include summer, part-time, or internship work. Participants must be between the ages of 18.5-24, possess a high school diploma or equivalent, and be U.S. citizens.
The application deadline for the 2019-2020 program is December 1, 2018. For a more detailed overview of the program, we invite you to attend our CBYX Informational Webinar on October 22 at 3:30pm EST. Please RSVP by sending an email to Ronda Rutherford.
Internships in Germany and in the U.S.
Cultural Vista's internship and work abroad programs allow students and professionals to develop the expanding set of competencies demanded in today's global economy through sustained immersion in a foreign country – language learning, interdisciplinary problem solving, empathy, and respect for cultural attitudes and ideas, to name a few.