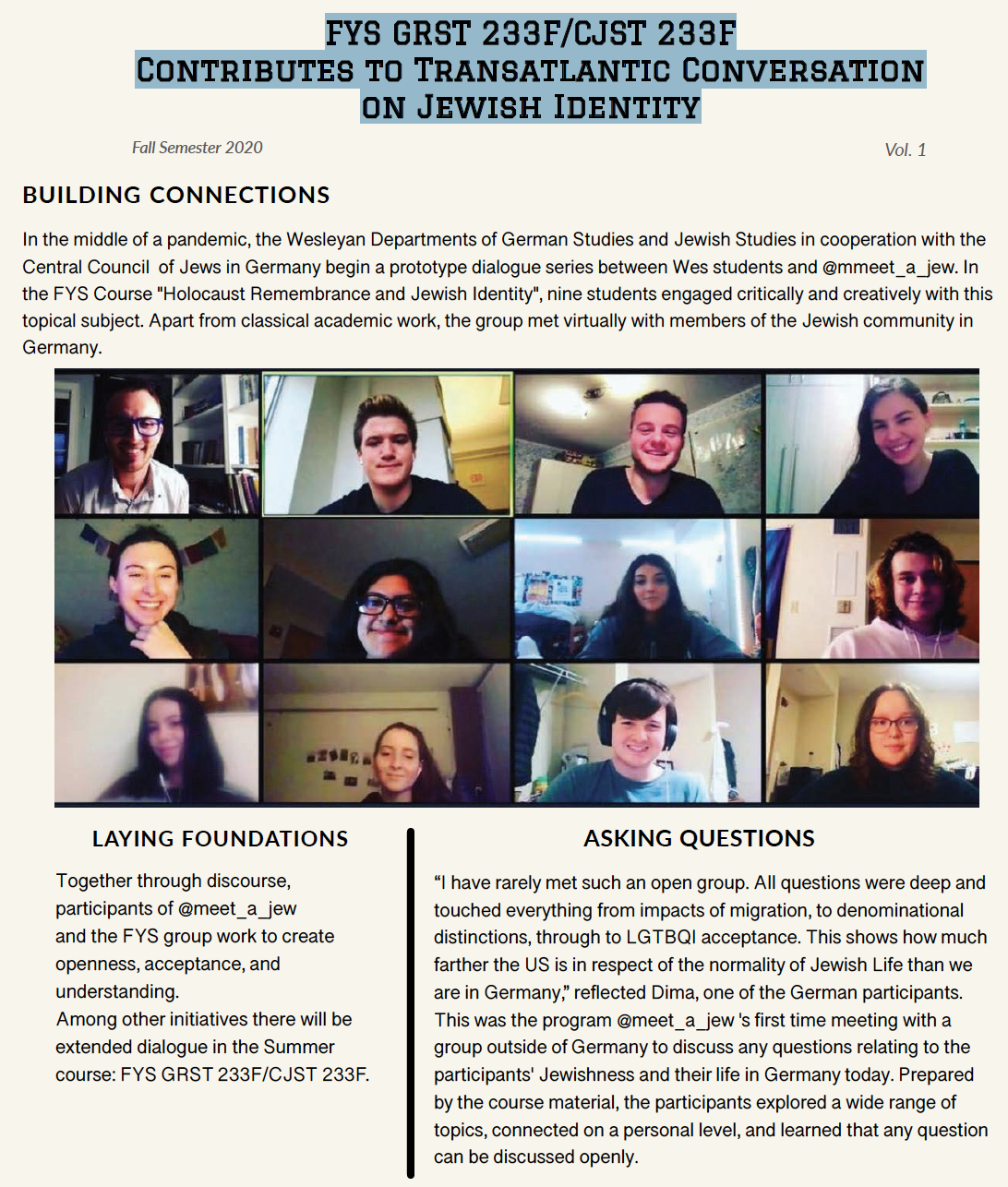 In the past fall semester, Wesleyan students in the First Year Seminar "Holocaust Remembrance in Germany: The Third Generation" participated in a pilot exchange with the Central Council of Jews in Germany. Made possible by the Departments of German Studies and Jewish Studies and the initiative "Meet a Jew", these virtual meetings constituted the first of a series of transatlantic connections.
Working on theories of trauma and memory, this FYS focused especially on Jewish life in Germany today. Literary representations and academic texts made visible themes of identity, memory culture, anti-Semitism, homophobia, and xenophobia. A personal note was sounded in the meetings with young members of the Jewish community in Germany. Not only did these visits allow for contextualization of course material, they also covered more in-depth and personal accounts. Dima, one of the German participants reflected that "I have rarely met such an open group. All questions were deep and touched everything from impacts of migration, to denominational distinctions, through to LGBTQI acceptance. This shows how much farther the US is in respect of the normality of Jewish Life than we are in Germany."
FYS courses at Wesleyan are specifically designed to introduce students to academic writing, reasoning, and arguing, as well as the tools to successfully work at the university level. This initiative added unreserved questions, open discussion, and personal connection to the rigorous academic schedule of the course. Students could reenvisage their paper topics and discuss real-world aspects of their textual analyses. The FYS "Holocaust Remembrance and Jewish Identity in Germany," part of the FYS Summer 2021 program, will bring these exchanges to a new level. Students will have the chance to not only engage in class discussions but also in regular small group discussions.
Written by Thorsten Wilhelm, published in Wes and the World Newsletter (03-04-21)
Check out the Summer Course program for further information or contact Prof. Thorsten Wilhelm.