The Helen & Kurt Wolff Translator's Prize is awarded each spring to honor an outstanding translation from German into English published in the USA the previous year. Established in 1996, the prize has been administered by the Goethe-Institut New York since 2015. This year's winner is Wesleyan Alum Philip Boehm '80 for his translation of Christine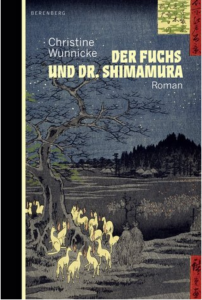 Wunnicke's novel The Fox and Dr. Shimamura (New Directions, 2019).
The five-member jury, led by Dr. Shelley Frisch reached a decision after narrowing an initial twenty-one titles submitted by American publishers, titles spanning diverse genres and over 600 years of German language writers, to a shortlist of four translators, including two translations by Philip Boehm. This is the second time that Philip Boehm has been awarded the Wolff Prize – he last won in 2013 for his translation of Gregor von Rezzori's An Ermine in Czernopol – and he is the only translator to have received the honor twice.
On May 9, 2020,  Philip Boehm was welcomed to a special online conversation with jury chair Shelley Frisch on the arts of translation. The discussion includes a reading from Boehm's award-winning translation and comments from author Christine Wunnicke. Wunnicke's novel is a unique and fantastical work that puts the virtuosity and sensitivity of the translator in the spotlight. Drawing on a true story, this book about the power of memory and narrative presents a mythical and fractured tale of a retired doctor in nineteenth-century Japan who reflects on the memories of his earlier days in the Shimane prefecture, where he cured women of fox possession.

Source: https://www.youtube.com/watch?v=0TEFz1oyuY4