Kamryn Wolf '12 Recently, Kamryn was accepted at Union Theological Seminary in New York and will be starting her graduate studies this fall.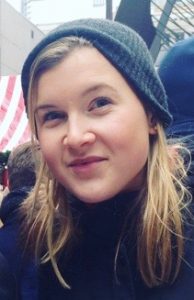 Madalene Smith-Huemer '14 Since graduating from Wesleyan in 2014, Maddy has lived in Washington, DC, where she works as Assistant Director for Campaigns and Stewardship at the Atlantic Council, a foreign policy think tank that promotes constructive US engagement in global affairs. At the Atlantic Council, Maddy has led fundraising campaigns for various programs and centers, including the Atlantic Council's Future Europe Center and Middle East Center. This summer, Maddy is backpacking through Spain, Portugal, France, Austria, and Germany, where she hopes to brush up on her German. In the fall, she will enroll in the Master of Science in the Foreign Service program at Georgetown University, where she hopes to concentrate in global politics and security with a focus on immigration in Europe.
Colin O'Connor '15 Currently, Colin is living in New York working for an environmental organization on state policy. He also runs a website on patient-centric care for people with Parkinson's Disease.


Philip Katz '17, a German Studies and College of Social Studies double major, received the German Studies Blankenagel Prize for his excellent work in German. He wrote a senior essay entitled Germany's Sickness Funds during and after the Nazi Seizure of Power, 1933-1938, which he presented at our annual end-of-semester party in May. This summer, he will be heading back home to Taiwan for a short while before starting work as a paralegal in New York.
Ezra Kauffman '17, a German Studies and History double major, received the German Studies Blankenagel Prize for his excellent work in German. He wrote a senior essay, which examines how environmentalism played a role in economic and political decisions in both Germanys during the Cold War. This summer, he will be traveling in Asia, before taking data analysis courses in New York in the early fall. In October, he will depart for Innsbruck, Austria, where he will be an assistant English teacher under the aegis of Fulbright Austria.
Toys Koomplee '17, a German Studies and Psychology double major, will be returning to Thailand. There he will be working in the Department of Juvenile Observation and Protection, under the Ministry of Justice for the Royal Thai Government in Bangkok. His work involves both researching and developing the programs for rehabilitation and education for juveniles in detention centers.
Lisa Shepard '17, a German Studies and Earth & Environmental Science double major is planning to go to Munich until the end of the summer to work as a program coordinator with Education First. Her subsequent plans involve moving to either Durham, North Carolina, or New York to spend time with family and to pursue a Master's in Earth Science. Eventually, she hopes to find a long-term job in Germany.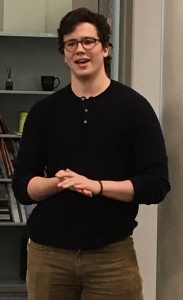 Ethan Yaro '17, a German Studies and College of Letters double major, wrote an honors thesis entitled Herder: A World that We Each Create by Ourselves. He shared his work with us at our end-of-year party in May. This summer he is working with Professor Jesse Torgerson on a data analysis project where they are mapping a Byzantine manuscript, looking at the geographical nature of the text, and ascertaining how the geography in the text changes over time.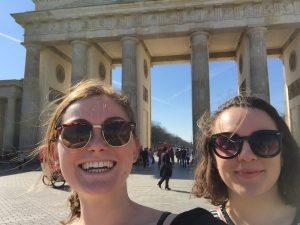 Luisa Chan '18, a German Studies and Anthropology double major and Lizzie Whitney '19, a German Studies and College of Letters double major, have been studying in Hamburg, Germany, since March.  They write from Germany: "…This program has been a great choice so far. It offers enough support to make taking classes in German at the University of Hamburg not only possible but enjoyable; yet we still have plenty of freedom and time to explore Hamburg and the rest of Germany on our own. The relatively small program facilitates close friendships with students from other colleges, and yet Smith has enough history in Hamburg that people at and around the university recognize the name and are willing to help us succeed."
Carter Deane '18, a College of Social Studies major with a German Studies minor, will spend his summer in Nordrhein-Westfalen, Germany, to investigate the history of Islamic religious education in German schools. Carter will also look at the legal challenges Muslim communities have faced in their efforts to organize these classes, and at the recent critiques of these classes by the ascendant right-wing party Alternative für Deutschland (AfD). Carter received funding for his project from several sources, among them the German Studies Arthur Schultz fund.
Hannah Fritze '18, an Astrology major and German Studies minor, will be spending this summer on campus, conducting astronomy research with professor Roy Kilgard. Her research focuses on characterizing extremely bright X-ray sources both inside and outside the Milky Way, primarily in an attempt to find black holes of a particularly interesting mass. This research will likely be the topic of her senior thesis. Later this summer Hannah will be taking a road trip to see the total solar eclipse this August.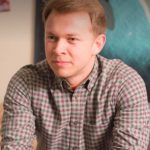 Jack (Hans) Guenther '18, a German Studies, College of Letters, and History triple major, will spend the end of his summer in Hamburg, Germany researching the Hamburg's development as one of Europe's leading port cities. It will be the topic of his honors thesis. Until then, Jack will be in his native Washington, D.C., working for the National Endowment for the Humanities, where he is helping the Endowment evaluate and award research fellowships. Two of Jack's colleagues are native Germans, and he has been delighted to find German is the office's unofficial second language!
Katherine Paterson '18, a Theater and Environmental Studies double major with a German minor, received the Prentice Prize for her excellent work in German. Katherine will be spending the summer doing research for her honors project in New York City. She will be working at community gardens and gathering information and data on how they build community. She will use this information to devise a theater performance in the spring that explores community building in community gardens and in theater. Katherine is also looking into a project for the fall that will introduce the Wesleyan community to the Swiss drama Biedermann und die Brandstifter by Max Frisch.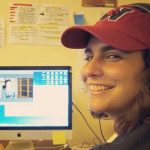 Sophia Shoulson '18,  a German Studies and College of Letters double major will spend this summer at the Steiner Summer program in Amherst, MA, learning Yiddish language and culture. She also works as an intern at the center on the "Wexler Oral History" project. She listens to interviews in Yiddish of people from all over the world and describes the content of the interviews. Sophia received the Scott Prize this year for her excellent work in Germany.
Chris Steidl '18, a German Studies and History double major, will spend this summer in Boston working for a non-profit organization, Community Rowing Inc. (CRI). His future intentions include traveling to Germany and teach English.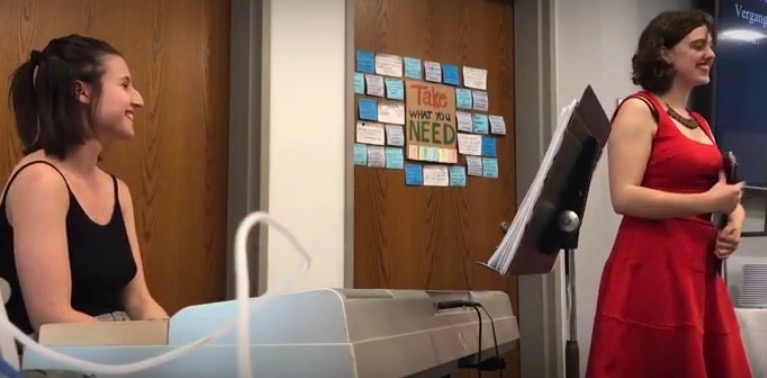 Anna Apostolidis '19, a German Studies and Anthropology double major, sang Lieder by Franz Schubert and Robert Schumann beautifully at our end-of-semester party. She was accompanied on the piano by Olivia Backal-Balik '20. Anna will be spending this summer in Berlin studying German at the Humboldt University and traveling through Germany.
Will Bellamy '19, a German Studies and English double major, will be driving across country over the summer and spending some time in Los Angeles before attending a one-year study abroad program in Hamburg, Germany. Undoubtedly, he will improve his German and learn about the city and its culture there. He is hoping to get an internship in Hamburg in some field related to translation, as that is what he hopes to be doing after graduation.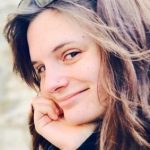 Joanna Paul '19, a Psychology and Sociology double major with a German Studies minor, will spend the first month of her summer interning at a therapeutic preschool called LEEP Forward in Chicago that helps children who experience challenges with social communication, sensory, and emotional regulation. She will spend the remainder of her summer working at their Wediko Summer Program in New Hampshire, a program for young people 9-19 years old that provides social, behavioral, and academic support. She will then be returning to campus two weeks early for her third year as an Orientation Leader, welcoming incoming students to Wesleyan.