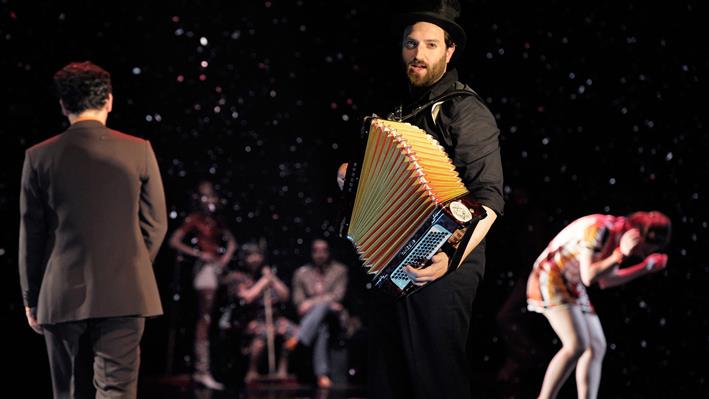 Review by Grace Nix'15
In einem der wichtigsten Theater in Berlin spielte man vor kurzem ein neues Stück — Angst essen Seele auf. Es ist gut möglich, dass manche von euch diesen Titel erkennen.  Das Maxim Gorki Theater hat einen von Rainer Werner Fassbinders beliebtesten Filmen (Ali: Fear Eats the Soul) für die Bühne bearbeitet.  Die Geschichte handelt von einem unwahrscheinlichen Paar–Emmi, einer älteren verwitweten deutschen Frau; und Ali, einem viel jüngeren marokkanischen Gastarbeiter.  Die Aufführung war ganz erfolgreich.  Das stärkste Element, das man der Geschichte hinzugefügt hat, war ein Erzähler in der Form eines amerikanischen, jüdischen, Jiddisch-sprechenden Klavier-Gitarre-Accordion-Spielers.  Er hat die Stimmung der Geschichte ganz verändert.  Was bei Fassbinder ein meist ruhiger und grüblerischer Film war, wurde hier in eine zeitlose Volksgeschichte umgesetzt.  Durch diese Form der Darstellung bekam Ali nicht nur Geist, sondern auch viel Humor, und neben Emmi noch einen echten Freund in dem Musiker.  Wenn man  an diesen Film denkt, denkt man an die starke Inszenierung und die Farben der Bilder.  Es gab diese schönen Elemente auch im Stück.  Das beeindruckendste neue Element war der anhaltende Aschenregen. Er hat niemals aufgehört, wurden nur noch stärker.  Am Ende gab es eine echte Wiese aus Aschen am Boden.  Ich möchte keinen Spoiler geben und daher nur sagen, dass diese Änderungen einfach das Ende der Geschichte ändern mussten.  Es gab im Stück keinen tragischen Epilog, sondern ein kurzes und (für uns, die den Film schon geguckt haben) verfrühtes Ende.  Manchmal sind diese großen Änderungen etwas ärgerlich, aber nicht dieses Mal.  Das etwas fröhlichere Ende des Theaterstücks war sinnvoll, erwünscht, und voll Sinn fürs Leben.  Fassbinder wäre vielleicht nicht völlig zufrieden damit –  wegen des viel positiveren Schlusses –  aber wir können ihn natürlich nicht dazu fragen.  Wenn Ihr  Berlin in der Zukunft besucht, würde ich gerne dieses Stück und einen Besuch im Maxim Gorki Theater empfehlen.
Grace has been studying in Berlin since last fall with Duke/Wesleyan in Berlin.