Tuesday, November 5, 7 PM, Center for Film Studies
In July – directed by Fatih Akin, Germany, 2000, 99 min.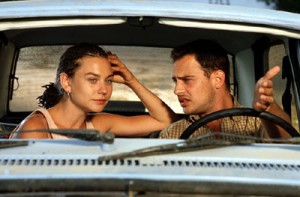 A charming comedy focusing on a somewhat naive and geeky teacher Daniel (Moritz Bleibtreu) as he embarks on a wondrous road trip in search of his dream girl. And it all starts at the beginning of his summer holiday, when he buys a ring from the aspiring artist and street vendor Juli (Christiane Paul). The ring bears a Mayan sun symbol, which, according to Juli, has the power to lead him to the woman of his dreams.  Will he find her?
Introduction by Iris Bork-Goldfield
Organized by Russell Library