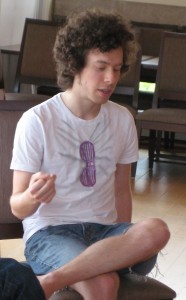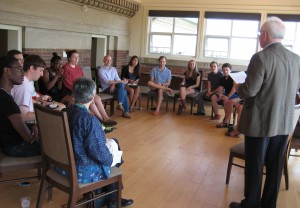 Shemuel Garber '13, a double major in German Studies and the College of Letters, wrote his thesis for COL, entitled, The Circular Cut: Problematizing the Longevity of Civilization's Most Aggressively Defended Amputation.
He will spend this summer in Brooklyn before leaving for Germany with a Fulbright Teaching Assistantship to teach English at a high school in Mainz, Germany.
James Gardner '13 is a Mellon Mays Undergraduate Fellow and a German Studies major. His Senior Honors Thesis explores Afro-German history from 1871 to 2013. He has been awarded the Prentice Prize for his excellent work in German, the Heidemann Award, for helping others in the Wesleyan community, and the Butterfield Prize for his leadership, intellectual commitment and concern for the Wesleyan community.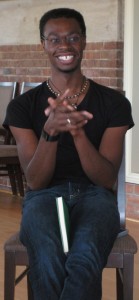 James will continue his work with the Afro-German social work organization, Joliba, in Berlin, where he worked while studying abroad in Berlin in 2012. At Joliba, James will coordinate initiatives, tours, and events in line with his Afro-German academic work. He also hopes to obtain the International Parliamentary Scholarship (IPS), which offers young people the opportunity to gain practical experience in parliamentary work during a 15-week internship under the auspices of a Member of the German Bundestag. James is planning to apply for a DAAD scholarship this fall in order to continue his studies at the Free University of Berlin.
Max Kaplan '13 will be working at The Fund for the Public Interest in Philadelphia. This is a national non-profit organization that works to build support for progressive organizations across the country. They run campaigns for USPIRG, Environment America, the Human Rights Campaign, and Environmental Action.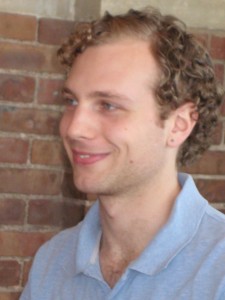 Adam Rashkoff   '13, a double major in German Studies and the College of Letters wrote a senior essay for both departments on Freud's theories of psychological repression to analyze Theodor Adorno's appropriation of the German Idealist concept of Naturschöne, or natural beauty. He will spend the upcoming academic year teaching English at two secondary schools in Vorarlberg, Austria, under the auspices of USTA-Austria, a program administered by the Fulbright Commission and funded by the Austrian Federal Ministry for Education, the Arts and Culture. This summer, he will split his time between Stanford University, where he will work at a literature and arts summer camp for middle and high school students, and Brooklyn, NY. In New York,  he will intern on a project to develop a humanities curriculum for a network of charter schools. Ultimately, he plans to pursue his interest in German Studies at the graduate level.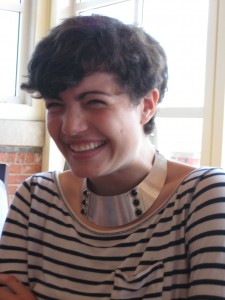 Avery Trufelman '13,  a double major in German Studies and the College of Letters, wrote a senior thesis in both departments. Avery translated the autobiography of Hans Rosenthal, an iconic German gameshow host and holocaust survivor. She received high honors for this work.  Avery is also the recipient of the Scott Prize, awarded for excellence in foreign-language study. She will go on to intern for NPR Berlin (produced entirely in Washington, DC).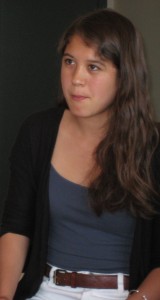 Mari Jarris '14 This summer, Mari will conduct her thesis research on the Frankfurt School's critique of German Idealist philosophy using the archives and libraries at the University of Frankfurt and the Akademie der Künste in Berlin. She received the DAAD Undergraduate Scholarship, the Davenport Grant, and the Blankenagel Prize to support her summer research.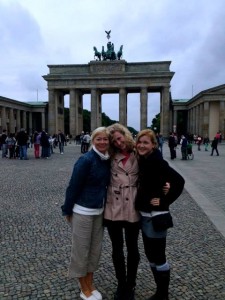 Maddy Smith-Huemer '14  She is a German Studies and History major who has been studying at the Free University of Berlin with the Duke in Berlin program since January 2013. She will continue her studies there until the end of July, while also conducting research for her senior year thesis on resistance movements in the former GDR.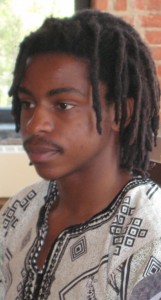 Oscar Takabvirwa '14, a double major in German Studies and Mathematics, hopes to be working for a consulting firm in New York City this summer. He will start research for his honors thesis for German, a translation of works by authors whose parents migrated to Germany and who grew up in a multi-cultural environment.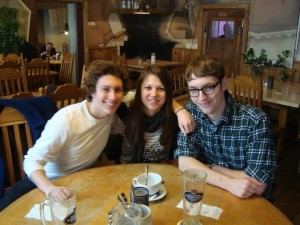 Jaqueline Heitkamp '15,  Colin O'Connor '15  and Daniel Hurlbert '15 have been studying in Regensburg since January 2013 and will continue their studies there until the end of July.
In the photo below, Colin is joined by former Wesleyan students and  Regensburg exchange students who visited the Regensburg Dult, an annual folk festival, in May 2013.