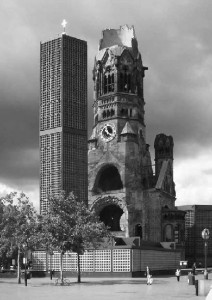 Professor Kathleen James-Chakraborty (University College Dublin), an expert on 20th century German architecture and author of numerous publications will lecture on architecture and identity in Germany at Wesleyan University on Tuesday,  Sept. 25, at 4:30pm, in 41 Wyllys, room 112.
Although the most prominent buildings  in Berlin since the fall of the wall in 1989, such as Daniel Libeskind's Jewish Museum, Norman Foster's renovation of the Reichstag, and David Chipperfield's reconstruction of the Neues Museum, are often understood as examples of a postmodernist strategy, their juxtaposition of historic architecture, often damaged in the Second World War, and modern forms that recall the architecture of the Weimar Republic, are in fact only relatively recent examples of an architectural strategy that can be traced back to the founding of the Federal Republic.  Now associated with coming to terms with the atrocities of the Third Reich, in its original entirely modernist context this pairing originally encompassed conservative nostalgia for a pre-democratic past even as it helped define a specifically non-Communist present.  Following reunification it served as alternative to the postmodernism with which it is too often confused in part because the degree of modernism's rupture with the past is often exaggerated.
This talk is made possible through the Department of Art and Art History, Samuel Silipo '85 Distinguished Visitor Fund, and the German Studies Department.