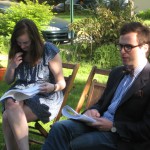 Anya Olson '11 and William Krieger '11 present their Honors theses in Uli Plass' garden to a spellbound audience.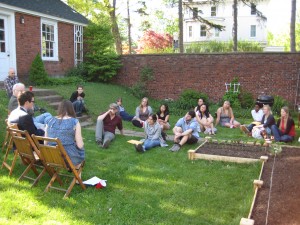 Anya Olson "Gender and Society in Selected Works by Irmtraud Morgner, Christa Wolf, Rainer Werner Fassbinder and Heinrich Böll"
William Lawrence Krieger, IV: "Framing the Dilettante: The Art of Martin Kippenberger"
Anya received a Baden-Württemberg scholarship and will be studying in Tübingen next year. Will received a Fulbright scholarship to study and do research at Humboldt University in Berlin next year.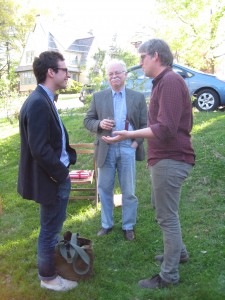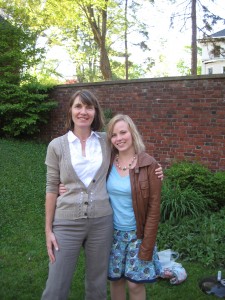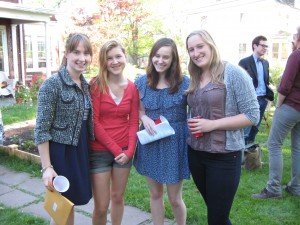 We celebrated the following German Studies Majors
Matthew Alexander – COL Short Story Prize
William Krieger – Fulbright Fellowship, Beulah Friedman Prize, Blankenagel Prize
Benjamin LaFirst – Fulbright Teaching Fellowship to teach English at a high school in Linz, Austria, Prentice Prize
Anya Olson – Baden-Württemberg-CT Sister State Exchange, Scott Prize
Catherine Steidl – Baden-Württemberg-CT Sister State Exchange, and Blankenagel Prize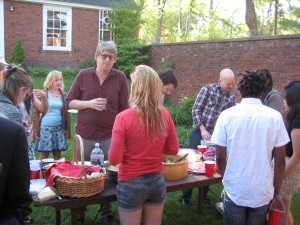 The German Consulate Book Awards were presented to
Isadora Danim, Mari Jarris, Steven Le, Hannah Overton, Oscar Takabvirwa, Alexandra Scherbl, and Carmen Yip